The 2018 Farm Bill made hemp-derived goods legal across the US, but each state is responsible for controlling CBD on its own soil. Currently, the majority of states have authorized some type of hemp pilot scheme to grant licenses to produce and manufacture hemp. Understanding hemp consumer regulations aren't always easy, especially in states that were never cannabis-friendly, like Texas. So, what is the state of CBD legality in Texas? There are certain restrictions on the kind of CBD products you can purchase and possess. Before we proceed to talk about its legalization, let's learn the basics of what CBD actually does to an individual.
What is CBD?
CBD oil, also known as cannabidiol oil, is a cannabinoid derivative that is said to provide the therapeutic benefits of cannabis (such as pain relief, inflammation relief, anxiety management, and epilepsy therapy) without the euphoric effects of marijuana. CBD oil is available as a prescription in pot dispensaries, nutritional centers, and even as a smoothie ingredient. While CBD oil is becoming increasingly popular, the substance is still unregulated in the United States. Food and Drug Administration, resulting in significant differences in the product's contents and quality. Depending on State and federal legislation, as well as the interpretation of such regulations by state legislation and health regulations enforcement authorities, the range of components and mixing procedures may have major repercussions for customers.
Yes, providing it is made following federal regulations. By removing hemp from Schedule I of the Controlled Substances Act on December 20, 2018, the Federal Government legalized hemp with a tetrahydrocannabinol (THC) content of no more than 0.3 percent. This legislation also makes hemp farmers eligible for federal crop insurance and some federal research funding. CBD is allowed as a hemp product as long as it is derived from hemp and totally pure and farmed by licensed farmers in compliance with state and federal standards.
How does each state implement its CBD laws?
CBD Oil is deemed legal at the state level in states where marijuana is authorized for recreational use. These states are:
Alaska,
California,
Colorado,
DC,
Maine,
Massachusetts,
Nevada,
Oregon, and
Vermont.
Twenty-nine states have legalized marijuana for medical use in varying amounts, and CBD is likewise allowed under those legal provisions, regardless of the THC percentage of the origin of the oil. CBD Oil is likely illegal in places that have not decriminalized marijuana.
The state of CBD legality in Texas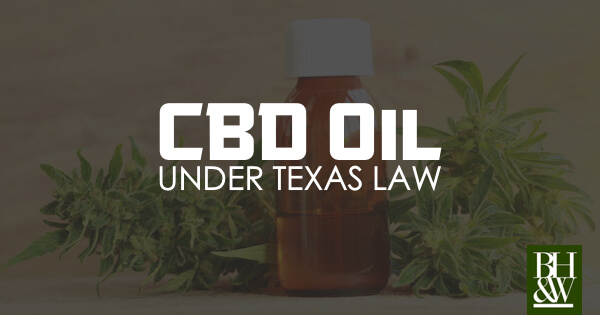 Unless you meet the requirements of the Compassionate Use Act, CBD is illegal in Texas. It is permissible to consume medical CBD oil if you have been prescribed it and utilize "low-THC" CBD. Texas has approved marijuana for medical purposes only, and only in extremely limited instances. The Compassionate Use Act of 2015 enabled the medication of "low-THC cannabis," defined as having no more than 0.5 percent THC, for individuals diagnosed with intractable epilepsy and registered in the state's "compassionate-use registry." The Act requires a prescription by two physicians, but it is presently federally illegal for a physician to "prescribe" marijuana. It is allowed for physicians to "recommend" marijuana to their patients under a 2000 court ruling, but the wording of the Compassionate Use Act requires a prescription, creating a conflict with Federal law. Possession of CBD oil containing any level of THC is illegal in Texas if you do not meet the criteria established by the Compassionate Use Act. The federal and state definitions of marijuana are nearly identical.
What are the consequences of possessing CBD in Texas?
In Texas, if you have CBD oil that contains any sign of THC, you might be criminally charged with Possession of a Controlled Substance in Penalty Group 2, which can result in a sentence ranging from 180 days in a state correctional facility to 20+ years in prison and a fine not to exceed $10,000.
If the CBD oil does not include THC, it is currently classified as a Schedule V substance that is not subject to any penalties. Possession of CBD with no THC is a Class B misdemeanor punishable by 0 – 180 days in prison and a fine of up to $2,000.
What should you seek in Texas CBD oil?
CBD oil derived from mature stems of the Cannabis sativa plant is likely to be legal under both federal and state law. Consumers looking to buy CBD Oil in Texas must opt for a product labeled "industrial hemp" or "mature hemp." Products labeled "THC" or "CBD Oil" should be avoided due to potential conflicts with state and federal legislation.
Do you believe you should do more research on CBD legalization overall? More information on how to obtain and utilize CBD can be found in our CBD FAQ, and by visiting our CBD shop, you may develop your own comprehensive CBD routine more effectively. Do you understand how much to take for each medical condition? Our CBD dosage calculator app can assist you in determining the appropriate amount of CBD oil to ingest.